Benefits of using a composite pipe repair product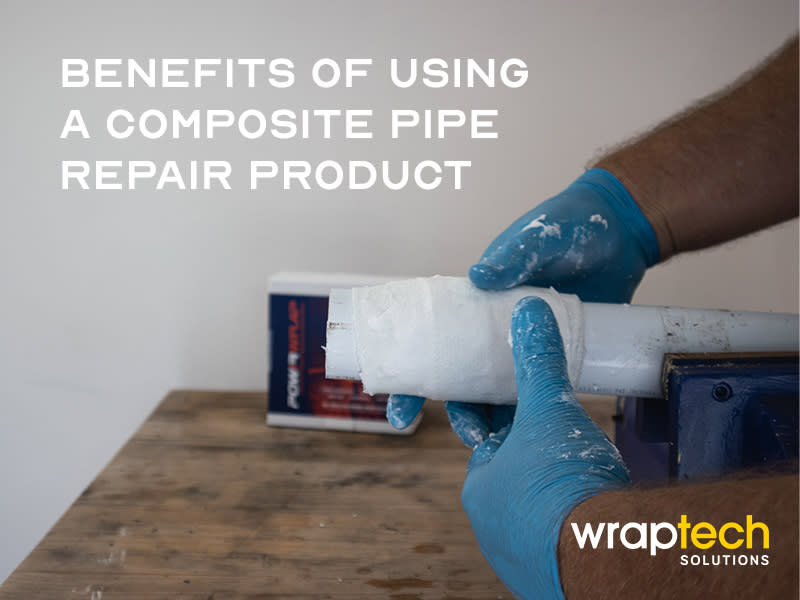 Wraptech is a great example of a composite pipe repair product and why you should use it for doing your pipe repairs. The biggest advantage of a composite pipe repair product is that it can be applied to just about anything. By this I mean that it will adhere to any kind of pipe material, I have yet to find a piping material that Wraptech did not bond on to.
The next big advantage is sizing. With other rigid repair products you have very small tolerance ranges to work with. Where with Wraptech you will be able to fix any size within a very large range, for example, the WT4180 will work on any pipe from 90mm all the way to 150mm. So one kit can repair many different sizes instead of having a kit for every size of pipe that you are using.
Next advantage is shape. Composites have the ability to shape themselves to anything by virtue of the fact that they are a wrap, so they are very flexible or shapeable. Any odd shaped, uneven or irregular characteristics on a pipe like a collar or even a Tee will just be absorbed by the material, just like a bandage does on a human body.
Finally we come to strength, I some cases especially with the more plastic type materials, once the repair is done, the repaired area is structurally stronger than it ever was in the first place. This along with the fact that Wraptech acts like a rust encapsulator which means that on metal pipes that have signs of rusting, the rusting area can no longer continue to corrode. Wraptech is also completely acid resistant so it is great for repairing corrosion leaks from strong or dilute acids in production plants.
In short, there should be no reason you are not using composites for any leaks, no matter where you are and what your situation is.